This post most likely contains affiliate links to things such as tours, accommodation, Amazon associates and products. This means when you use the link I may receive a small commission at no additional charge to you, this helps to keep this blog going.
Amsterdam is one of Europe's top city breaks, popular with people of all ages and all cultures. After being lucky enough to visit on various occasions I can understand why. The beautiful canals which flow through the heart of the city, which are framed with traditional tall and skinny dutch houses. The architecture of Amsterdam is beautiful, which along with the always friendly faces of the locals it is easy to understand why 14 million tourists choose to book a holiday to Amsterdam each year.
However, higher prices come hand in hand with its popularity, while Amsterdam is not extremely expensive, it is not a cheap city to visit either. Visiting Amsterdam on a budget is possible and over my last few visits I have picked up a few tips and tricks to make a trip to Amsterdam more affordable. This guide will help you plan how much spending money you need for a weekend in Amsterdam.
Read before you fly: 51 interesting and fun facts about The Netherlands and top fiction books set in Amsterdam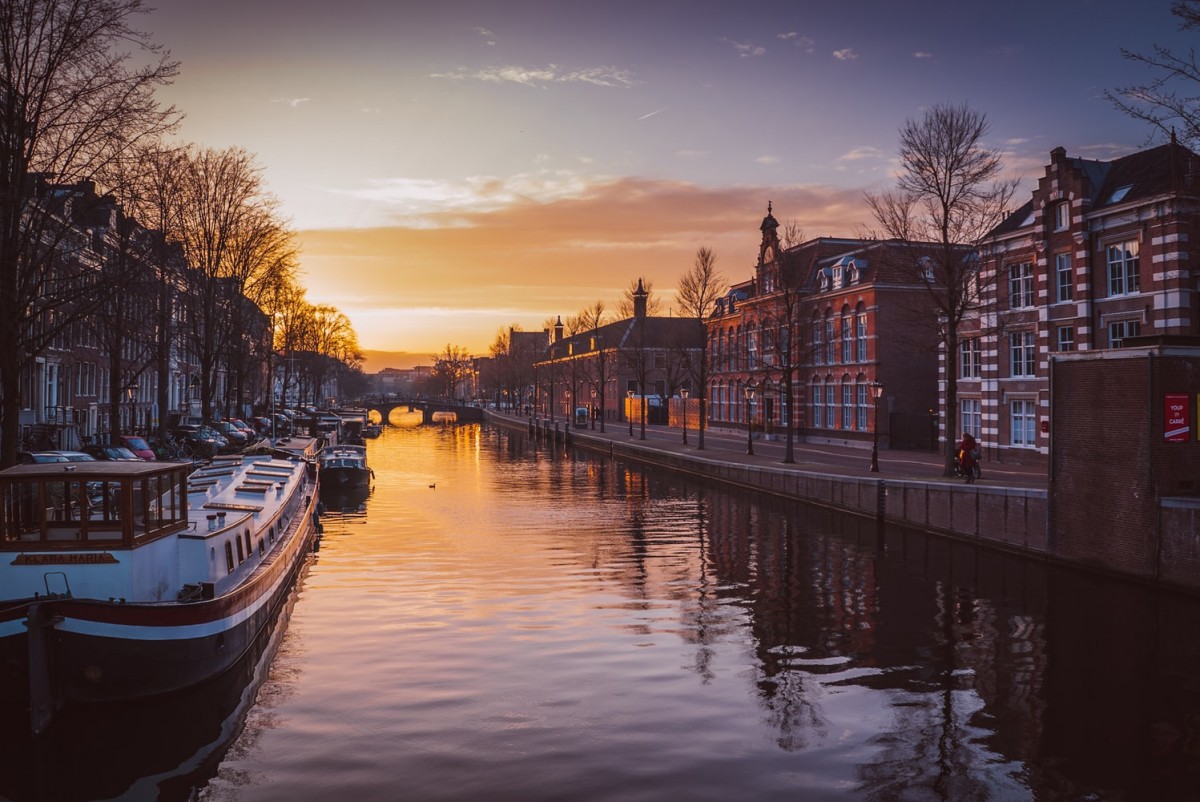 Amsterdam on a budget: How much money to take to Amsterdam
Getting to Amsterdam – The cheapest way to travel
If you are travelling to Amsterdam from the UK there are various ways to travel.
The quickest route to Amsterdam – Fly. With regular flights from budget airlines such as Easyjet and Ryanair, you can secure flights to Amsterdam for as cheap as £40 return. Be sure to make use of websites like Skyscanner to find the cheapest flights.
One of my best tips for finding cheap flights is to be flexible with dates if possible.
From the UK, the average flight time to Amsterdam is around 40 minutes, this will take you to Amsterdam Schipol Airport, which is located just outside of the city centre.
The most convenient route to Amsterdam – Eurostar. If you are in London, you may want to consider using the Eurostar to get to Amsterdam. The journey is longer (four hours and 40 minutes) however the final destination is Amsterdam Centraal Station, located right in the heart of the city. I also find the Eurostar more comfortable than flying, however, generally, it is more expensive. Be sure to look out for Eurostar flash sales to secure a bargain.
The cheapest route to Amsterdam – Megabus or Coach. If you are looking to really budget your trip to Amsterdam, you may want to opt to travel by coach or Megabus. This will be the cheapest but the longest route. Coaches will often travel overnight, so you will not lose too much time on your visit. If you are really looking to visit Amsterdam on a budget, this will be the best option for you.
Whichever route you decide to opt to get to Amsterdam, on most occasions travelling midweek will be cheaper than visiting across a weekend.
How long should I visit Amsterdam for?
It really depends on what you are visiting. If I am just visiting Amsterdam, I usually find 2 nights a good amount of time to visit the attractions, get a feel for the city while not feeling rushed. Due to the close proximity from the UK, one night in Amsterdam is completely doable if you are efficient with your time.
If you are considering visiting some other Dutch cities on day trips from Amsterdam you will want to extend your visit for a few more nights. The Netherlands is easily accessible by train, making it simple to take day trips to other cities such as Utrecht and The Hague.
The cheapest way to get to central Amsterdam from the airport (Amsterdam Schipol)
There are 3 modes of transportation available from Amsterdam Schiphol Airport (AMS) to the city centre of Amsterdam: Taxi, Train and Bus. The fastest route to the city centre is by hiring an Amsterdam airport taxi. Though it will cost approximately 39€, it will only take 15-20 minutes to reach your destination.
The quickest method of public transportation is the Train. Train tickets cost 5.40€ and it takes around 20 minutes to reach the downtown area.
An alternative cheap option is the Bus. Tickets for the bus cost 5€ and the journey takes 35 minutes.
How much spending money do I need for a weekend in Amsterdam?
The amount of Amsterdam spending money you will need depends on how much you want to see and do while in Amsterdam. If you are planning on visiting many of the main attractions you will need to allocate a bigger budget than someone who has no interest in these.
Food is one of the biggest ways you can save money when visiting Amsterdam, so it is important to access and work out your priorities before you arrive to ensure you do not waste money unnecessarily.
Planning in advance is essential when attempting to visit any city on a budget. I would personally say, excluding accommodation and travel to Amsterdam, £120 – £160 would be a fair amount to budget for a 2 night / 3 day trip to Amsterdam.
Average prices in Amsterdam (city centre)
Sit down meal for two: €60
IAmsterdam Card (including travel): 24-hour €60 / 48-hours €80
3-day public transport pass: €28
1 pint of domestic beer: €3-5
McDonalds Meal: €8
I am not suggesting you eat in Mcdonalds when you visit Amsterdam, there are a ton of much better restaurants, but I always find the price of a standard Mcdonalds meal to be a good comparison to your home countries prices.
The best budget accommodation in Amsterdam
You will be spoilt for choice when choosing where to stay in Amsterdam, there is something suitable for every budget.

If you are looking for a good hostel, I would point you in the direction of the StayOkay brand as I have heard nothing but good things about them. There are three in the city, two which are more centrally located and as well as StayOkay Amsterdam Vondelpark, if you are looking for somewhere in a quieter part of the city. The StayOkay Hostels offer private rooms as well as the traditional hostel Dorm rooms.
Air B'n'B is also very popular in Amsterdam and you can find some really good bargains. Air B'n'B can work out very cost-effective if you are travelling as part of a group. I particularly like Air B'n'B, as a good host will often give you tips and their best local recommendations.
Staying in an apartment or hostel also has the added benefit of an accessible kitchen. Meaning you can prepare and eat certain meals inside, perfect for saving money on a trip to Amsterdam.
Amsterdam is a moderately sized city but it is well connected and easy to get around. Therefore you will not need to worry too much about the location of your accommodation in terms of what you want to see. Most people tend to opt to stay in the De Wallen or Centraal areas as they are closest to all of the attractions, I personally prefer the Jordaan or De Pijp neighbourhoods as they are quieter.
Free things to in Amsterdam
Join Free Walking Tours
Whether I am on a budget or not, I always recommend joining a walking tour for your first visit to a city. It will give you a great insight to the city and it is the best way to get your bearings. Many free walking tours are run by locals (mostly students), so again, you will find out many local tips and hotspots, it also gives you an opportunity to get their personal recommendations. Even though walking tours are free, it is courteous to give your guide a tip for taking you on the tour.
Mini-museums in Amsterdam
Amsterdam is full of mini-museums, some interesting and some just bizarre. Not all of them are like the big, old museums we are used to in the UK, they are small and quirky, and nestled in between the shops and attractions. Some of the museums include the museum of prostitution, a museum all about tulips, and the Red Light Secrets. These 'mini-museums' are often only a few euros to visit and can be an amusing way to spend some time.
Walk the canals and people watch
Amsterdam is known for its canals which run through the heart of the city. The city is centred around the UNESCO-listed Canal Ring, where three canals form a horseshoe shape around the old centre. Spend time wandering alongside them, crossing the bridges which are often lined with traditional Dutch tulips. Spend some time sitting beside them while watching the bikes wizz by. I believe you really start to get a feel for a city when taking time to sit back and watch the locals. I recommend heading to the area of Jordaan to do this, it is a more local area with fewer tourists.
Free views of Amsterdam
The Openbare Bibliotheek Amsterdam is Europe's largest library but alongside being a beautiful building, if you head up to the 7th floor you will find a terrace with quite a spectacular view over the city. Entrance to the library and terrace is free. The Openbare Bibliotheek is open 7 days a week from 10:00 am to 22:00 pm.
If you are looking for further things to do, I have a post on the top things to do in Amsterdam at night which will help you with your planning or a guide on how to spend 36 hours in Amsterdam.
Top ways to make your spending money for a weekend in Amsterdam go further.
Choose walking over transport in Amsterdam to save money, especially when visiting during the warmer months. Amsterdam is easily accessible by foot and when visiting I have always felt safe while walking around the city.
If you prefer, the city is well connected via trams and you can purchase a travel ticket (1 – 3 days) which allows unlimited travel on the tram, bus, metro, ferry as well as the Airport Express. You can purchase these online prior to your visit or at various places in the city, including Amsterdam Schipol and Centraal.
I much prefer visiting cities during the summer, the warmer weather is always perfect for exploring a city with a lot of outdoor attractions. Plus you have the bonus of being able to eat outside. When visiting Amsterdam during the summer months to save money, purchase food from the local supermarkets and head to Vondelpark for a picnic or sit by the edge of a canal and watch the world go by.
If a lot of the main attractions are on your list of must-dos in Amsterdam, you may want to consider purchasing the I Amsterdam City Card to save money. The I Amsterdam City card will gain you access to various main attractions in the city as well as unlimited free transport across the city. However, be sure to look into this before purchasing, weigh up whether it will be cost-effective for the number of attractions you really want to visit.
Alternatively, if you only have a few attractions on your Amsterdam bucket list, purchase tickets for these individually before you arrive in the city. I generally find tickets are cheaper online and often include a skip-the-line bonus, meaning you will save money and time. I always purchase my city attraction tickets from Get Your Guide.
To ensure you get the best exchange rates I always recommend using a Revolut card when abroad. Revolut is a secure, mobile-based current account that allows you to hold, exchange and transfer without fees in 25 different currencies. My favourite thing about this card is the use of the app, the app updates instantly to ensure you always know exactly how much you have spent (in all currencies). It also divides the spent money into categories, meaning you can see exactly where the majority of your money is being spent.
Budget food and drink in Amsterdam
In the city of Amsterdam, you will find eateries to suit all budgets. If you are looking to visit Amsterdam on the cheap you will want to make use of the fast food places across the city.
I would say the average sit down meal for one in Amsterdam city centre (two courses and a drink) is around €20.
But there are many locations where you can walk up and by various snacks, such as chips, waffles and various other items, most of which are only around €3.
There is also a large street food market on the outskirts of the city. Foodhallen in De Hallen is a large indoor food hall with over 20 different stalls, varying from Michelin star concepts to international street foods. Due to the stall aspect, you can purchase food and drinks in different places, then sit at the tables in the middle, this is a particularly good option if you are visiting as part of a group.
How to get to Foodhallen from Amsterdam Centraal
To reach Foodhallen you can either walk from the city centre (about 15-20 mins) or take tram 17 from Central Station or tram 7 from Leidseplein to the "Ten Katestraat" stop.
Remember to stay hydrated. I always take a reusable water bottle with me when travelling, not only does it reduce my plastic waste it also saves me a lot of money. Most eateries across Amsterdam will be happy to refill your bottle with tap water if you are already purchasing something from their store.
Deciding how much spending money you need for a weekend in Amsterdam can be tough. I would always to advise to have a bit extra allocated in case you find something unexpected which you really want to do, the best-case scenario is you do not need the extra money and you can save it to put towards your next trip.
This post is in collaboration with Dealchecker.co.uk