This post most likely contains affiliate links to things such as tours, accommodation, Amazon associates and products. This means when you use the link I may receive a small commission at no additional charge to you, this helps to keep this blog going.
Without a doubt, Amsterdam is one of the top European city breaks and it is easy to see why. There are tons of things to do during a weekend in Amsterdam from walking the canals to swinging the A'DAM lookout to visiting the Rijksmuseum. But what about during the evening? As usual, when planning things to do in Amsterdam at night I consulted my Marco Polo guide for trusted ideas on what to do.
If you are looking for a thorough travel guide for your trip to Amsterdam, then I recommend purchasing a Marco Polo Amsterdam Guide. Despite the majority of my travel planning now being online, I always still refer to a physical guide as well. Marco Polo guides are small and concise, they easily fit in your bag but are still packed with a ton of easy to follow information as well as a pull-out map.
A favourite feature is the discovery tours featured in each guide, these easy to follow walking tours guide you through the most popular city attractions as well as hidden gems. These self-guided tours are additionally available offline on their mobile app, allowing you to follow via your phone, even if you do not have mobile data. Marco Polo provides guides for huge range of cities and countries which you can view here.

Top things to do in Amsterdam at Night
Take a night canal tour
What better way to see Amsterdam at night than from the water. Embark on a 1.5 hour night cruise which will take you through the historic waterways and past the lit-up houses and bridges. The on-board guide will point out the highlights as well as share knowledge on Amsterdam. An on-board drinks service is available, making it the perfect after-dinner activity in Amsterdam.
If you are only visiting Amsterdam for a few days, I would recommend booking the evening canal tour in advance. Amsterdam can get extremely busy and by booking in advance you will avoid the disappointment of the tour selling out or paying a higher price than needed.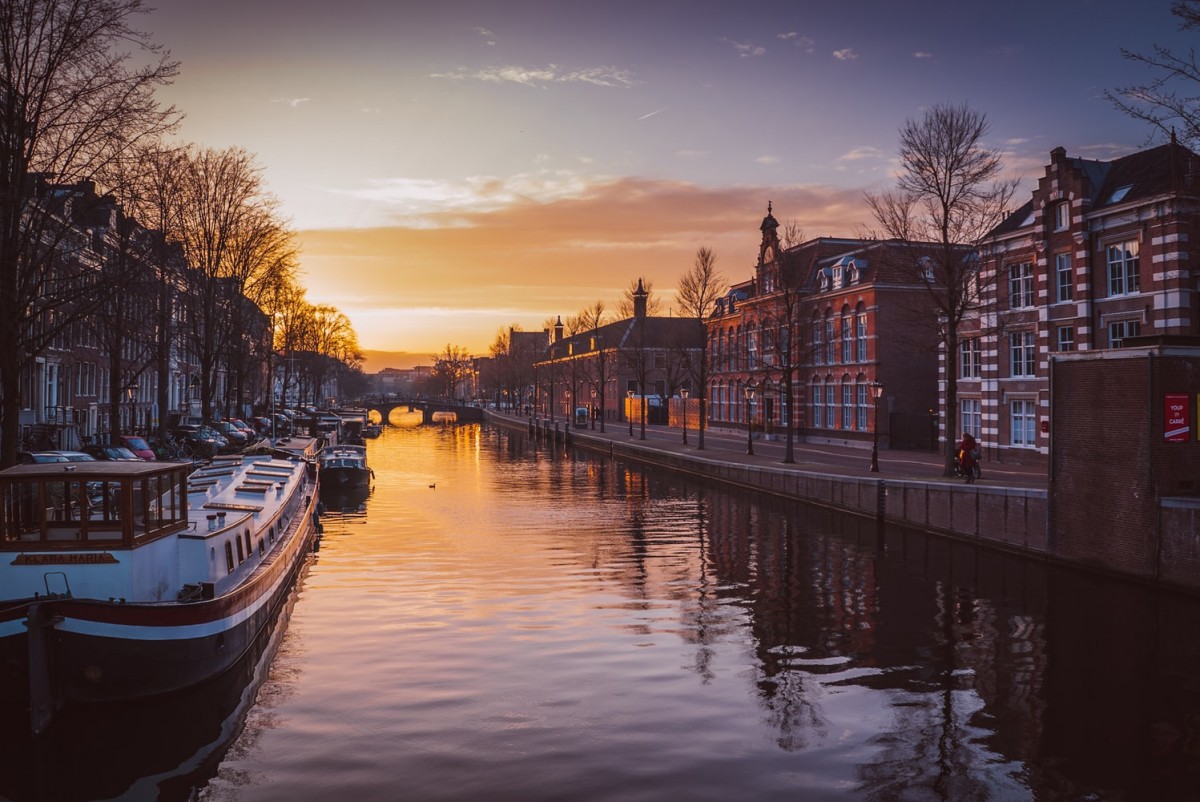 Canal Walk with local
If boats are not for you then instead you can book a canal walking tour. This particular tour is a private tour with a local, ensuring you get the see the best of the city from an insider. There are so many walking tours you can book onto in Amsterdam, however, I would always advise the smaller tours with Dutch locals, I find these tours give you the best in-depth knowledge of the area as well as highlight some of the local favourites, like the bar mentioned below.
If you prefer to do a walk without a guide, then follow one of the guided tours in the Amsterdam Marco Polo Guide. If you want to avoid the crowds then follow the 'Rejuvenated Neighbourhoods Discovery Tour' or for the main sites, I recommend following the 'Amsterdam at a Glance Tour'.
Visit a Speakeasy Cocktail Bar
Avoid the tourist trap bars and spend the evening in Amsterdam like a local by visiting Door74. Located in the Grachtengordel district of Amsterdam, Door74 is a 1920s style prohibition bar serving fabulous cocktails. However, Bar 74 is only easy to find, if you know where to look! (ring the bell next to the black door)
I recommend visiting here if you are looking for something unique to do in Amsterdam which is away from the hustle and bustle of the main tourist district.
See Amsterdam from above
What a better way than to see the city glistening from above? Visit Amsterdam Lookout for a panoramic view above the city.
Located in Buiksloterweg, the A'DAM Lookout Tower features a 360º Sky Deck and a 360º indoor panorama deck, 20 stories off the ground.
This also where you will find the Amsterdam Swing ' Over the Edge' where thrillseekers will swing 100 meters high, back and forth over the edge of the tower with Amsterdam below their feet. The Amsterdam Swing costs an additional €5 on top of your entrance fee into the tower.
The A'DAM lookout can get quite busy during the evening in Amsterdam but I do think it is worth it for the view. however, if you do prefer to visit during a quieter time, during the day time in on the weekdays or early Saturday mornings are usually best.
Grab dinner at FoodHallen
Spend an evening having dinner and drinks at the Foodhallen. Foodhallen in De Hallen is a large indoor food hall with over 20 different stalls, varying from Michelin star concepts to international street foods.
Due to the stall aspect, you can purchase food and drinks in different places, then sit at the tables in the middle, this is a particularly good option if you are visiting as part of a group. After dinner stay inside the Foodhallen for drinks at the G & T bar and Wine bar.
How to get to Foodhallen from Amsterdam Centraal
To reach Foodhallen you can either walk from the city centre (about 15-20 mins) or take tram 17 from Central Station or tram 7 from Leidseplein to the "Ten Katestraat" stop.
Visit the Van Gogh Museum at night
If you are looking for something to do on a Friday night in Amsterdam and drinking is not your style, then head to the Van Gogh museum. Alongside Stedelijk Museum, the Van Gogh museum stays open late on a Friday evening (9 pm) making it a great time to visit if you are looking for a less crowded experience.
The Anne Frank House also stays open until 10 pm on Fridays. If you are not aware, the Anne Frank House is extremely busy and tickets are not the easiest to buy. All tickets to the Anne Frank House MUST be bought in advance and cannot be purchased on arrival, therefore if you are struggling to find tickets during the day, be sure to check the Friday evening when most tourists are opting to do other things.
Take on an Escape Room
I love an Escape Room and luckily for me, there are so many in The Netherlands. For those who are not aware, Escape Rooms are a group activity (generally 2 players upwards) in which you are locked in a themed room and have to complete a number of challenges in order to 'escape' within a certain time.
The top-rated Escape Room in Amsterdam is Sherlocked, located in the De Wallen district. Sherlocked has two rooms, The Architect and The Vault, both of which can be played in either English or Dutch.
Hit the Clubs
If the party is your scene, then you will want to purchase an Amsterdam Nightlife Ticket. The particular nightlife ticket gives you access to over 20 nightclubs, special events, experiences and more.
This ticket is valid for seven days, so you will be able to get the most out of this package deal. The nightlife ticket provides access to come of the biggest nightclubs and many smaller bars, as well as entrance to 'This Is Holland' – a unique 5D Flight Experience.
Purchase your Amsterdam Nightlife Ticket here to save money.
Amsterdam light festival (November – January)
If you are visiting Amsterdam in the Winter then you will not want to miss the Amsterdam Light Festival. Between November to January each year a whole host of Dutch and international artists will contribute to the festival, creating spectacular light sculptures around Amsterdam's historic Canal Ring, the River Amstel and other special locations.
The Light Festival can be viewed by foot, bike or boat and dedicated routes are set out to provide the best experience.
If you are thinking of booking a canal tour in Amsterdam during winter, there is a special dedicated Amsterdam Light Festival Canal Cruise. The glass-roof barge will provide panoramic views of the illuminated merchant houses, and the romantic bridges as you cruise along the Amstel River.
The Light Festival is not to be missing if you are looking for things to do in Amsterdam at night during the winter.
Is Amsterdam safe at night?
I have personally always felt safe walking around the different neighbourhoods in Amsterdam throughout the evenings and have never felt threatened.
However, with any place in the world, you have to be sensible. Keep your wits about you, do not have valuables on show and stay in well-lit areas. Do not put yourself in dangerous situations.
Although I have never felt unsafe, I personally do not like the Red Light District during the evenings (Or at any time to be honest), I avoid it when visiting Amsterdam and it is why I have not mentioned it in this post.
I avoid this area as I find it to be overrun with tourists, many of which are usually intoxicated, it is just is not for me. For me, this area of Amsterdam is full of litter and definitely most affected when it comes to the over-tourism issues the city is currently facing. I do not feel it gives a fair or good representation of the city. My opinion will always be to avoid this area, especially during the evenings in Amsterdam.
The best way to get around Amsterdam
If you are able, Amsterdam is a great city to walk, it is not overly large and it is fairly easy to navigate. If you prefer, the city is well connected via trams and you can purchase a travel ticket (1 – 3 days) which allows unlimited travel on the tram, bus, metro, ferry as well as the Airport Express. You can purchase these online prior to your visit or at various places in the city, including Amsterdam Schipol and Centraal.
There are also multiple places throughout the city where you can hire bikes (most hotels will offer a rental service). Amsterdam is a lot busier than other Dutch cities for bike riding and while there are dedicated bike lanes on the roads, I would only recommend city riding for more confident bike riders.
There are so many things to do in an evening in Amsterdam, much more beyond the obvious tourist traps, I hope this guide to on things to do in Amsterdam at night has given you a few ideas as well as a few tips on how to see some of the busier attractions at quieter times.
For more Amsterdam travel tips be sure to join my dedicated Netherlands travel group:
This post is in collaboration with Marco Polo Guides, for who I am a brand ambassador for in 2019.