This post most likely contains affiliate links to things such as tours, accommodation, Amazon associates and products. This means when you use the link I may receive a small commission at no additional charge to you, this helps to keep this blog going.
Visiting Japan but worried about the language barrier? I was too, I had no idea how to read or speak Japanese (I still do not!) but I was determined to know a few basic Japanese phrases to help me get by during my 10 days in Japan. You know super useful Japanese phrases for tourists like 'Hello' and 'How much is this?' (which you will need for buying all the amazing Japanese souvenirs)
Learning some basic Japanese phrases before you visit can really help to bridge the gap with locals, not only are you showing a form of respect to the people of the country you are visiting, it will help to bring a more cultural element to your visit as well.
Japanese is not the easiest language to learn. For starters, the Japanese alphabet does not contain letters but, instead, contains characters and, technically, they are not alphabets but character sets. Hiragana is the main alphabet or character set for Japanese. However, learn the basics, be bold and try your best – The local Japanese people will love you for it.
At the bottom of this post, you will also find a handy downloadable PDF cheat sheet of simple Japanese phrases to take your trip!
Japanese for Tourists – Simple Japanese phrases you will need to know!
Do many people speak English in Japan?
Being a native English speaker I am incredibly lucky that most countries I have visited around the world are able to communicate with me in my own language, this also has the flip side of making me lazy when learning new languages.
However, Japan was different. While there was a large number of Japanese locals who did speak English (especially inside train and metro station) and separate English menus were available in restaurants, the locals would not naturally just speak to you in English, they would speak in Japanese. This most frequently happened inside shops and convenience stores. Even though the majority of the time I had absolutely no idea what was being said, it somehow worked but know the odd Japanese phrase definitely helped me to feel more comfortable.
This should put you at ease:
All major signage in train stations is in Japanese and English. In the event that you have a question, go to the JR counter and speak to an employee. They should have a translation device, which will help in the event that they aren't confident with their English skills.

Hotel staff usually speak English

Japanese people, in general, are very polite and kind. While they may not approach you, if you ask for help they will usually do their best to assist you or point you in the direction of someone who can help.
Learn a few words in Japanese, as it will show you're trying. And be patient. Remember, you are a guest in another country, and while some people may know a bit of English, it is not their first language.
Basic Japanese phrases:
Hello – こんにちは
Pronounced: Kon'nichiwa
Goodbye – さようなら
Pronounced: Sayōnara
Thank you – ありがとうございました
Pronounced: Arigatōgo zaimashita
Yes / No -はい / いいえ
Pronounced: Hai / iie
Sorry – ごめんなさい
Pronounced: Gomen'nasai
Excuse me –すみません
Pronounced: Sumimasen
My name is…. – 私の名前は
Pronounced: Watashinonamaeha
Useful Japanese phrases for tourists:
How much is this? –これはいくらですか
Pronounced: Kore wa ikuradesu ka
I do not understand -理解できません
Pronounced: Rikai dekimasen
Do you speak English? – 英語を話せますか?
Pronounced: Eigo o hanasemasu ka?
Where is the train station? – 駅はどこですか?

Pronounced: Eki wa dokodesu ka?
Can I have a menu? – メニューを頂けますか

Pronounced: Menyū o itadakemasu ka
I only speak a little Japanese – わたしは にほんごがすこししか はなせません
Pronounced: Watashi wa nihongo ga sukoshi shika hanasemasen
Can you speak more slowly? – もっと ゆっくりはなしてください
Pronounced: Motto yukkuri hanashite kudasai
Apps and books to help you learn basic Japanese
Duolingo
Available on both Andriod and Apple, the Duolingo app is a fun, interactive language learning app. I particularly like Duolingo as you do not need a long time to complete 'lessons' and it is designed to be used in short bursts while on the go. Duolingo is great for interactive learns and as well as Japanese, the app teaches numerous different languages.
Google Translate
Google Translate is one of my most used apps and I would not be without it while travelling now. Download the Japanese language pack (free) before you leave for your trip and you will be able to use it in Japan even when you do not have any interest allowance.
Alongside written translation, it also has the ability to translate voice and images. At times, it can be slightly off, especially when assessing pronunciation but on the whole, it is a really solid language app to use.
This book is great for those who want to focus on writing and reading the Japanese alphabet and more something to work through once you have the grasps of speaking and understanding basic Japanese phrases.
Downloadable Useful Japanese for Tourists PDF
Download and print for your trip to Japan!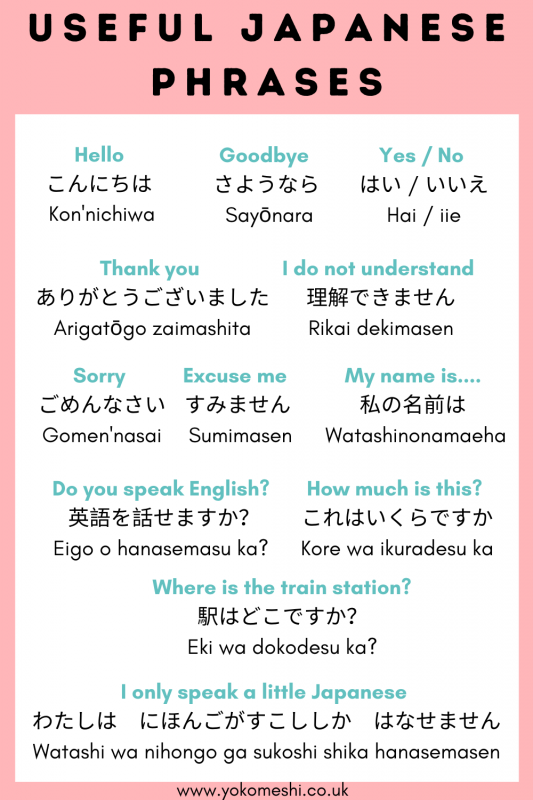 If you are still planning your trip to Japan, I have a ton of useful information on Japan to help you get the most out of your trip – Japan Travel Blog