This post most likely contains affiliate links to things such as tours, accommodation, Amazon associates and products. This means when you use the link I may receive a small commission at no additional charge to you, this helps to keep this blog going.
When you think of Japan so many thoughts instantly pop-up, cherry blossom, Geishas, capsule hotels and of course, Pokemon. As soon as we booked our trip to Japan my boyfriend instantly produced a list of all the Pokemon-related activities he wanted to partake in while there, top of the list was visiting the various Pokemon stores, with the top one being the Pokemon Center in Osaka.
There are various Pokemon Centers located across Japan, with the majority being in Tokyo (there are currently 3, with the 4th opening in Shibuya in November 2019). We visited all of the different stores across Tokyo, Osaka and Kyoto, however, the best and biggest store was the Pokemon Center DX in Osaka.
This particular location is also special as it also has a Pokemon Cafe / Restaurant attached to it as well, at present, the only other Pokemon Cafe is Japan is at the Tokyo Ginza store.
The top places to visit if you only have one day in Osaka
Read more of my Japan posts here
Everything you need to know before visiting the Pokemon Center in Osaka
Where is the Pokemon store in Osaka located?
The Osaka Pokemon shop is located on the 9th floor of a department store called 'Daimaru' which is in the area of Umeda. This is located just a 5-minute walk from Osaka Station (located on the JR Line) and a 5-minute walk from Umeda Station.
On arrival at the department store, you can take either the escalators or elevators to the ninth floor where the Pokemon center and Pokemon Cafe are located.
At present, the store is open between 10 am – 8 pm every day, however, it can get extremely busy, therefore I would advise arriving for opening time.
What can you buy at the Pokemon Center in Osaka?
I think a more appropriate question is what can you not buy. The store sells everything from Pokemon Cards, toys, games, stationery, keyrings, homeware, stickers, seasonal items and so on. The DX Centers also have plush figures available for each of the original 151 Pokemon, this is something which is currently not available at the smaller stores such as the Tokyo Station Pokemon Center.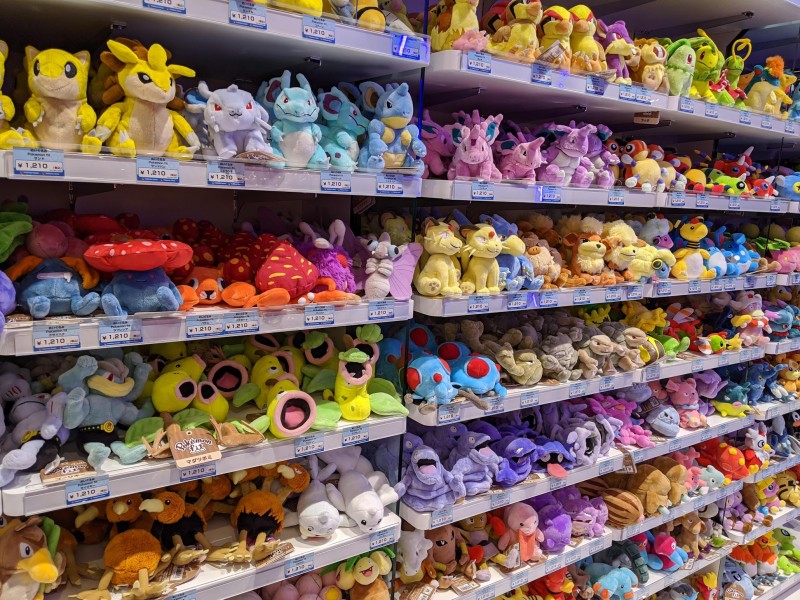 Also within each merchandise category, they also have different sub-ranges such as the 'Pikachu Girly Range' and the 'Ditto Collection' meaning you will be spoilt for choice and you really will be able to find something for everyone.
You can, of course, purchase various Pokemon card packs as well as all of the game console games at the Center.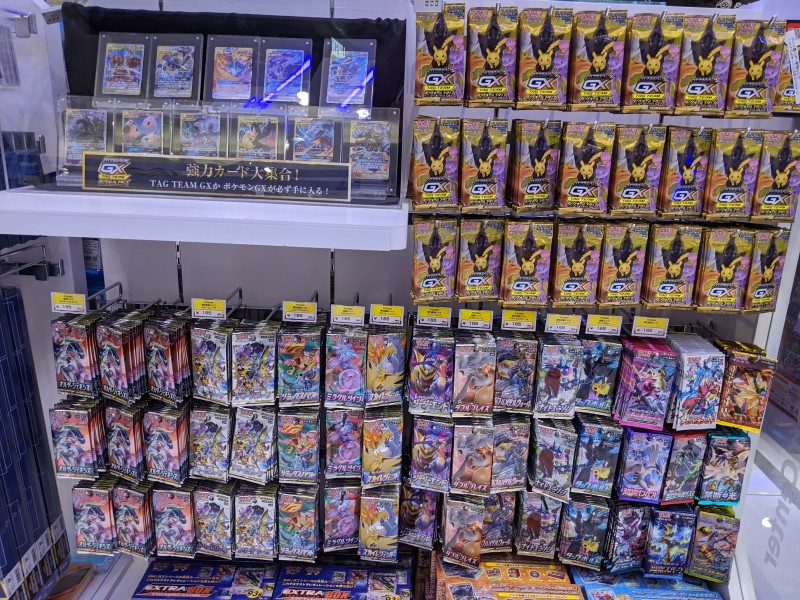 Do they have exclusive merchandise at the Osaka Pokemon Shop?
Yes. This was why the Osaka shop was our favourite and the reason why we visited all the stores during our trip.
Apparently, there is exclusive merchandise available at each store, however, we did not find this to be correct when we visited. The only stores we found exclusive merchandise in was Kyoto and Osaka. However, Kyoto exclusives do not mention the store names and therefore can still look generic. The Pokemon Center DX in Osaka sells an exclusive Osaka enamel pin (¥ 693 /£4.94), bags and washi tape.
Each city has it's own Pikachu available for purchase, in Osaka, the Pikachu is solid, shiny gold.
At Christmas, there is also exclusive holiday merchandise which is available and the same across all of the Pokemon Centers in Japan.
–> Read more of my Japan posts here
Is everything expensive?
This really is a mix. Some items, such as the individual plushes are quite expensive (¥2200 / £16) but there are some really good value items, such as the A4 notebooks (¥200/ £1.50).
A pack of Pokemon cards is priced at ¥165 / £1.10 and they often have deals on the socks, such as 3 pairs for ¥1000 / £7.10.
I went with the impression that everything would be really expensive (I also believed visiting Japan would be expensive) but I was pleasantly surprised. You can definitely find items to suit all budgets and can find smaller items to purchase as a souvenir.
What other activities are there at the Pokemon Shop in Osaka?
The store itself is really interactive, the outer walls have huge colourful murals. One of the inner walls is a large interactive computer where you can search for your favourite Pokemon, it is a really cool looking Center.
Aside from the store, there are also lots of Gashapon / Capsule Toy Machines (¥300 per toy) which are all Pokemon-themed as well as arcade games (¥100 per play). The arcade games to accumulate quite large queues.
At the exit of the store, look to see if they are doing any exclusive games, this is usually a table set up just past the cashier desks. If in doubt, then ask. During our visits, we took part in the lottery and the Pokeball Challenge.
The Pokemon Center Lottery – ¥650 per ticket. A guaranteed win lottery, with prizes ranging from themed flannels to exclusive huge plushes. Prizes are refilled each day and the lottery prizes change monthly. I won a huge Pikachu plush on here which easily would have cost ¥2500/ £20+ in the store.
Pokeball Challenge – This one is really fun. You purchase a metal Pokeball for ¥500 and have 1 minute to fill the ball with as many items as possible from a bin full of Pokemon items. The ball has to be able to fully close at the end of the minute and you get to keep all of the items inside. The majority of the items are old stock, but they are still really good quality and are worth more than ¥500.
Throughout the year the Pokemon Centers also have exclusive events, especially around the time of new releases, however, the official site is in Japanese and does not translate too well, meaning it is not always easy to find out about them ahead of time.
The Pokemon Cafe Osaka
As previously mentioned, Osaka is home to one of the two Pokemon Cafes in Japan, the other being in Tokyo. The Pokemon Cafe is a fully themed Pokemon Restaurant and the theming is incredible.
Visiting the cafe is done in time slots and advance booking is essential. It does get booked up extremely quickly, therefore, I would advise booking a time as soon as you know your dates for visiting Osaka. Bookings can be made via the official website.
During your allocated time in the Pokemon Cafe (2 hours) you can choose to eat or just have drinks. All of the food and drinks are themed including Eevee Burgers, Snorlax Katsu Curry and Gengar Smoothies. You can also purchase a latte with your any of your favourite original Pokemon on top.
The food itself is mediocre (as in you can definitely get better elsewhere in the city) and choices are extremely limited for vegetarians. However, I found it to be more about the actual experience rather than the quality of the food served.
We paid ¥7000 / £50 for two meals, two drinks and one dessert. I did find this to be very expensive in comparison to a lot of the meals we had across Japan, however, again, I am glad we had the experience.
During your 2 hour slot, Chef Pikachu will make an experience and there will be a short show in Japanese. It is very bizarre but somehow enjoyable and Pikachu will shake everyone's had afterwards (you are not allowed photos with).
The Pokemon Cafe in Osaka also has an exclusive merchandise shop where you can buy themed plates and cups as well as Chef Pikachu Plush dolls. These are exclusive to the Pokemon cafes and cannot be purchased anywhere else at present.
I did find the Pokemon Cafe to be expensive for the quality of the food served, however, if you are a hardcore Pokemon fan it is definitely an experience to have while in Japan. It is also worth pointing out, a reservation is free and you do not have to order a certain amount while there, therefore if you want to save money you also go and just order drinks or a dessert.
The Pokemon Center in Osaka is definitely a must for Pokemon fans visiting Japan, as mentioned we visited all of the stores in Tokyo, Kyoto and Osaka and found this one to be the best out of all of them.
Read next: The top 8 places to visit if you only have one day in Osaka, Japan.